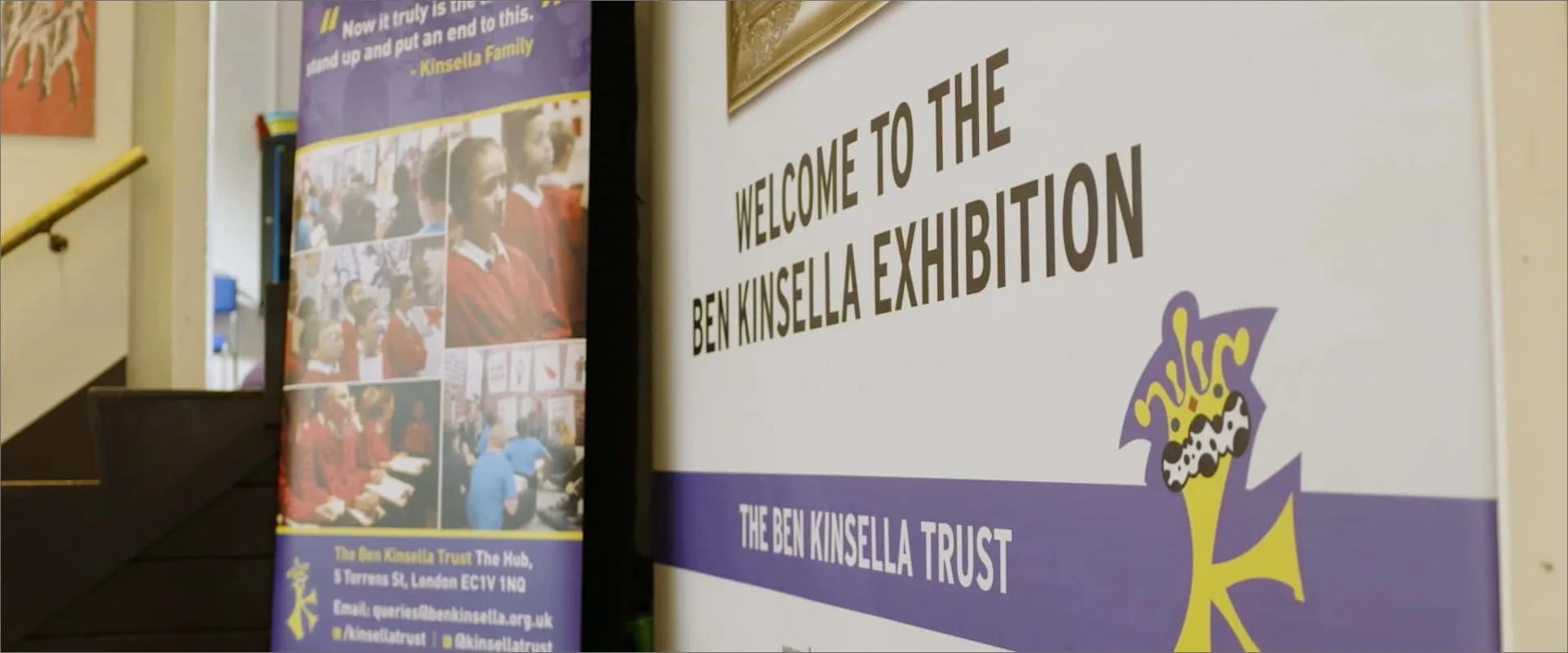 We are committed to safeguarding the privacy of our supporters, volunteers, partners and website visitors. This policy sets out how we will treat your personal information.
1. Our Privacy Policy
The Ben Kinsella Trust ("we") respects the personal data you share with us, or that we receive from other organisations, and we will keep it safe and secure, and will only use your data fairly and how you would expect it to be used following this privacy policy.
This page informs you of our policies regarding the collection, use and disclosure of Personal Information we receive from our supporters. We value our members and we will be clear when collecting your data and will not do anything with it that you wouldn't reasonably expect.
Where we collect personal data from
There are a number of ways that we may collect your personal information:
You give it to us directly
Your personal information is available publicly
We collect your personal information when you attend a meeting, join the board, sign up to one of our events, opt-in to our newsletters, download our resources or communicate with us.
This may include, social media depending on your privacy settings, Companies House, publications such as newspapers and other websites etc.
What personal information we collect and what we do with it
As a supporter, we will usually collect:
Your name
Your contact details (email address, phone number, postal address)
Your gender
If it is appropriate we may also collect:
Your date of birth
How you found out about our work
Your motivation for supporting us
We will use your personal information to:
Keep you up to date with our work
Process your donation
Keep a record of your relationship with us
Make sure we know how you would like to be contacted
We use this personal information on the basis that it is necessary to run our charity and our programmes effectively, and as it is necessary to inform our supporters about our work (although, if required by law, we will only send you messages with your consent).
Volunteers
If you volunteer for The Ben Kinsella Trust, then we may collect extra information about you (e.g. references, criminal records checks, details of emergency contacts, medical conditions etc.). This information will be stored for to meet our contractual obligations to you or other legal obligations, to protect us and for safeguarding purposes. Where this information is particularly sensitive (e.g. medical information), we use it only to meet our charitable purposes, and will only disclose it outside The Ben Kinsella Trust with your consent.
Recruitment and employment
In order to comply with our contractual, statutory, and management obligations and responsibilities, we process personal data, including 'sensitive' personal data, from job applicants and employees. This data can include, but is not limited to, information relating to health, racial or ethnic origin, and criminal convictions.
Keeping your personal information secure and who has access
We take appropriate controls to make sure that your personal data is protected. We also make sure that your data is only accessible to trained staff and volunteers, all of whom follow our Data Protection Policy. We use third party providers for some services, for example to store and manage our databases, who use personal information only on our instructions and our behalf.
We only retain your personal information as long as we have a relationship with you (e.g. as long as you are a supporter, volunteer or we provide services to you), and for an additional period to make sure we can comply with any legal obligations and to defend our rights.
Keeping your data up to date
We try and keep our data as up to date as possible. Please do let us know if your personal details change.
Your rights
You have the right to know what data we hold about you.
You can make a request to find out what data we hold about you by contacting us.
You have the right to have a copy of all the information we hold about you, and in some circumstances to have your information sent to a third party (the right of 'data portability')
You have the right to change your preferences or to have your personal information corrected or deleted.
If you want to exercise these rights, or if you object to any way in which we use your personal information, please just let us know by contacting us.
Changes To This Privacy Policy
This Privacy Policy is effective as of 01/01/2021. We may update or change our Privacy Policy at any time. If we make any significant changes to this Privacy Policy, we will notify you either through the email address you have provided us, or by placing a prominent notice on our website.
Contact Us
If you have any questions about this Privacy Policy, please contact us.
2. Cookies
This website, like most websites, uses "cookies" to help personalise your online experience. A cookie is a text file that is placed on your hard disk by a web page server. Cookies cannot be used to run programs or deliver viruses to your computer. Cookies are uniquely assigned to you, and can only be read by a web server in the domain that issued the cookie to you.
We use Google Analytics to analyse the use of this website. Google Analytics generates statistical and other information about website use by means of cookies, which are stored on users' computers. The information generated relating to our website is used to create reports about the use of the website. Google will store this information. Google's privacy policy is available here.
You have the ability to accept or decline cookies. Most web browsers automatically accept cookies, but you can usually modify your browser setting to decline cookies if you prefer. If you choose to decline cookies, you may not be able to fully use the features on this website or other websites you visit.