The Ben Kinsella Trust Choices and Consequences Exhibition
Our immersive exhibition space is used to deliver anti-knife crime workshops aimed at young people aged between 10-18.
The workshops, each for or up to 30 young people, are unique as they give young people an opportunity to learn about the dangers of knife crime and the emotions associated with living the experience in a safe space.

We know all young people learn differently, so we have combined role play, video testimony featuring real life stories, quizzes and surveys to keep young people engaged. During workshops, young people move through 5 different themed rooms, guided by trained facilitators and actors who provide age-appropriate guidance, interaction and content.
Immersive, interactive exhibition
Learn more about our knife crime prevention exhibition ↓
Comic room
We use a comic story to depersonalise an experience, where the comic's main character has chosen to carry a knife to protect himself after experiencing bullying. The de-personalisation allows us to explore three possible endings objectively, all of which were not envisaged by the main character but are those most likely to occur when carrying a knife.

We take the learnings from the comic, and apply them to real-life, relatable settings.
Ben's room
"Ben's Room" provides a space to learn about Ben's life, and watch him growing up through photos and film clips. Young people empathise with Ben, and learn who the person behind the headlines was. They see that Ben was like them; a normal London teenager who did things that they like to do.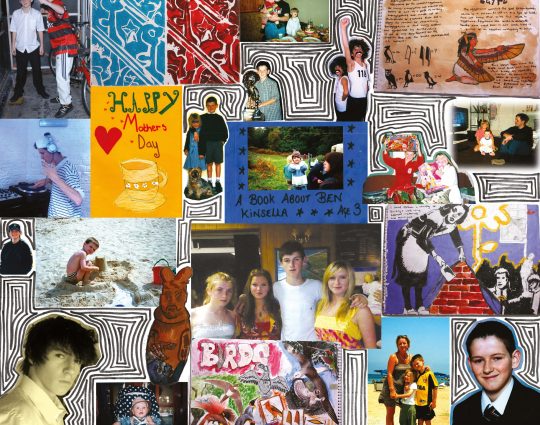 Cinema room
Young people watch an emotional documentary of how a series of negative choices left the Kinsella family, Ben's friends and a whole community, totally devastated. They explore the ripple effect of knife crime, the loss of life and liberty on both sides, and how life is never the same again for all of those involved.
Choices and Consequences
Young people take part in quizzes and discussions in the "Consequences Room", which enable young people to think through the right and wrong decisions relating to knife crime. Young people learn the medical implication of knife wounds (i.e. there is no safe place to stab someone), the law and how it is applied to knife crime cases, and the real consequences of choosing to carry a knife. This includes a discussion on joint enterprise and how simply encouraging or assisting someone to commit a criminal act may result in someone being convicted and serving a similar sentence to the offender.
Immersive theatre
Young people enter the set of a replica prison cell where an actor tells an emotive, dramatized story of how their wrong choice led to their new reality.

In an immersive and experiential learning environment, we draw empathy with the actor, who tells of what they have missed in prison, and debunks some of the myths surrounding the conditions of prison life.
Community room
The final space in the exhibition explores the lives of other young people lost to knife crime. This space, in Nottingham and Barking only, shows how knife crime is a local, contemporary issue.
I learnt about the consequences of being involved in knife crime, to the point where I feel that I can pass on my knowledge about it to someone who might not know
Student at City of Westminster College
Staff were excellent when faced with challenging behaviours and ensured their style of teaching was accessible to all learners
Teacher at alternative provision academy
Our borough is fortunate to have the exhibition, especially as it highlights stories so close to our community. The entire experience was necessarily emotional and hard hitting
Young Mayor of London Borough of Barking & Dagenham