The
Ben
Kinsella
Trust
presents
exciting
opportunities
for
Barking
&
Dagenham
community
We are excited to bring a series of empowering events to Barking & Dagenham! With a focus on engaging young people, parents, teachers, and practitioners, our programmes aim to keep our community safe.
Free Knife Crime Prevention Workshops
For the third consecutive year, we are delighted to offer fully funded knife crime prevention workshops to schools and youth groups in Barking & Dagenham. Thanks to the generous support of the London Borough of Barking & Dagenham, these immersive and impactful workshops are available at no cost. Visit our booking page and enter the coupon code "LBBD" to access these workshops for free. Our workshops educate and empower young people, helping them to make positive choices to stay safe.
Youth Ambassador Programme: Empowering Future Leaders
The Ben Kinsella Trust introduces its Youth Ambassador Programme, an exciting opportunity for 14-18 year-olds in Barking & Dagenham. This programme invites young people to become Knife Crime Prevention Ambassadors, enabling them to make a real impact on their local community.

Participants in the Youth Ambassador Programme will receive free training in areas such as Knife Crime Prevention, Public Speaking, and Media, among others. Additionally, they will have the chance to represent the voice of young people in Barking & Dagenham, receive a £50 voucher for their participation, create an anti-knife crime campaigns or project (with a £500 budget), and attend special events on behalf of a leading knife crime prevention charity.

Meetings will be held on Wednesday evenings during term time at a site near Barking Station. This programme presents an exceptional opportunity for young people to enhance their CVs, become future leaders, and make a positive difference in their community. Please share this opportunity with young people who may benefit from it, as places are limited.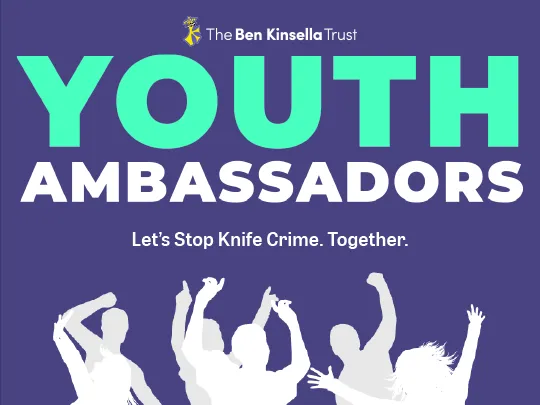 Open Evening: Explore Our Award-Winning Exhibition
The Ben Kinsella Trust's award-winning knife crime prevention Exhibition is entering its third year in Barking & Dagenham. Teachers, youth workers, and practitioners working with young people are invited to an open evening to see and experience these workshops first-hand. This event is a unique opportunity to engage with the educational resources and learn more about our impactful work. The open evening will take place on Tuesday, September 26th, from 5-7pm
Parents & Carers Workshops
Parenting children and young adults is hard, sometimes it can be scary and overwhelming with news stories and social media influencing how safe we feel our children are and the risks they may face in today's climate.

We offer Parents & Carers Workshops designed to empower families and provide valuable insights into knife crime prevention. These workshops aim to equip parents and carers with the knowledge and tools needed to support their children and keep them safe.
Watch This Space: New Outreach Programmes Coming Soon!
Stay tuned for exciting new programmes which we'll deliver in your school or youth centre! As we continue to expand our efforts to prevent knife crime, these upcoming programmes will provide even more opportunities for engagement and education within the community. More details will be shared soon